He's the BAD MAN! One of UK's beloved YouTuber, Humza Arshad has captured a lot of attention with his comedy and dynamic personality. Being funny comes naturally to the best actors and comedians. Humza is no exception! He began his YouTube journey back in 2010 with his series: The Diary of a Bad Man. The video diaries became viral quickly with his contrasting portrayal of a troubled young man with a childlike mentality. The twist being that with each episode, a lesson is to be learned giving the audience an entertaining webisode with a strong moral message on various themes. The diary series has done extremely well on Youtube and has garnered an astounding amount of views, reaching nearly 70 million collectively. In addition, Humza is using his time to help spread an important message to the youth with a campaign geared towards raising awareness about the dangers of extremism. We had he opportunity to catch up with the funny man and he humbly obliged to answer a few of our questions.
1.) How did you get started in comedy?
Growing up, I realized early that I could make people laugh. I wasn't too interested in school or doing the traditional route of applying myself to something if you will. As I got older, I did go to drama school and get my degree. When I finished, I didn't want to be typecast in typical roles like one liners with an accent or the stereotype of a terrorist in some film. I wanted to be creative and have more control over what I wanted my identity to be. My initial goal was to get someone's attention by doing my You Tube series, like a casting agent or producer perhaps. What ended up happening as a result was that I forged this great fan base around the world. I consider myself very lucky and fortunate that it worked out that way.
2.) When you think of comedians, who in the industry do you think is at the top of their game right now?
As a kid, I watched a lot of the African American comedians like Eddie Murphy, Dave Chappelle, Chris Rock and shows like Def Comedy Jam. No one can argue that they all are brilliant in their own ways. Right now, Kevin Hart is someone I do look up to, not literally since he's small, but generally speaking as a professional in the industry. He is showing everyone how things are done and he's doing it big with his TV appearances, movies and tours
3.) Some comedians rely on stereotypes and vulgarity in their repertoire. For those unfamiliar, how do you describe your style of comedy?
I do stay away from being vulgar and swearing. To be honest, I try to talk about relatable stuff, things that happen to me. I try to make it family friendly as possible. Probably not everything is but I do have a limit where I try my best not to offend anyone. I'm not perfect but I do try to be clean cut as much as possible.
4.) Your Badman episodes tend to have moral messages weaved into them along with the humor aspect. Was it your motive to do it that way?
When I started off, I wanted to be different. I knew I could make comedy but I wanted it to be meaningful. I didn't want easy, cheap laughs over nothing. I wanted people to be entertained, laugh, enjoy with one another and learn something too from it. I wanted different ethnicities to be able to relate to it and take something away from it as well. So yes, that was definitely one of my motives from the start.
5.) Your series has had over 68 million views since its launch. How do you handle the popularity?
It does shock me. I do joke with my friends about it by saying this was going to happen as I am extremely good looking. But in all seriousness, it has been humbling. I am very, very grateful to be in the position I am today. This series has opened so many doors and opportunities for me. It is my stamp into the industry for which I am extremely appreciative.
6.) You teamed up with the East Midlands Metro Police, for the short film 'Think for Yourself' about dangers of extremism. What made you get involved in that?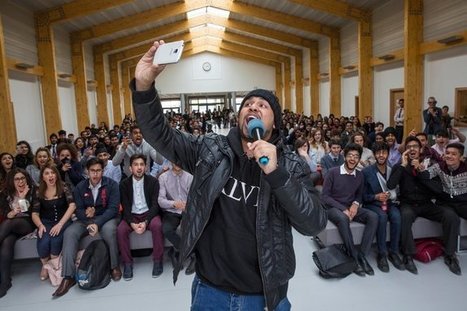 It started before the ISIS issues and we wanted to reach out to a certain audience, especially the youth. They knew I had a large following and this comedic talent of delivering messages to the viewers. Long story short, they asked to team up with me to do it in a way were we could deliver the message about extremism and radicalization but with a different spin for the youth. I was able to use my comedy to deliver such an important message. The short film ended up having so much PR that it turned into a tour. At first it was 10 schools and now its over 50 schools we have done this campaign. It has been interesting timing for something like this and I am really glad I was able to be a part of it.
7.) Any backlash over your involvement with the campaign?
To be fair, I was expecting negative feedback as you always have that one person but it ended up being fairly well received. I was very up front from the beginning what my goal with my involvement was. I had no political agenda from doing it and I made that very clear. My primary purpose was to raise awareness about extremism and connect with the youth to deliver that key message. I want to keep young kids safe. I want to teach them you can stand up for what you believe in and violence is wrong. I think people respect that and have been very supportive.
8.) What is next for you? What do you have in the works?
Last year I finished up the tour. Then I came back on YouTube and have been doing some new projects. My goal is to get a million subscribers. Things are going really well behind the scenes and I have some great things in the works. I had some fun releases last year with Bubblegum, then started the Badman episodes and now have just finished Badman episode 3 which has received over 150K views in just a weeks time. I am very happy. Busy, but happy. More to come, so stay tuned!
9.) Would you be open to reality avenues?
For me personally, mainstream is more of my niche and goal. I want to be challenged and do something that allows me to be creative.
10.) Any plans for international travels for shows?
It is one of my goals to perform internationally. That is definitely a next step for me at some point. There are talks but we are figuring the details out. Just have to take it one step at a time. I would love to meet all my fans around the world. Watch this space!
Message for fans
I want to acknowledge all the fans and supporters who follow me on social media, subscribe to my YouTube channel, leave me messages and comments. I see you! Thank you for all of your support! It is because of you all I have been able to live my dreams. I love you all!
Make sure to follow Humza on all of his social media platforms to get the latest!
Facebook: @HumzaProductions
Instagram: @HumzaProduction
YouTube: @HumzaProductions
Twitter: @HumzaProduction
Best wishes to Humza from our entire team! You are one of the funniest people we have interacted with and we thank you for your time! Badman 3 is some of your best work yet and we can't wait to see what is next from you. Hope to see more of you in North America as well! Everyone, make sure to follow Humza for updates on what he is working on next. He posts the funniest photos and his hashtags are EPIC.