Heard at every restaurant and fast food across the world, the phrase 'for here or to go' doesn't usually correlate with anything other than the concept of food. However, in a new comedy recently released in the bay area at the Cinequest film festival, the phrase means more than meets the eye. Directed by Rucha Humnabadkar and written by Rishi Bhilawadikar (creator of "Stuff Desis Like" Blog), 'For Here or To Go' is a film that takes a closer look at the real immigration struggles of many hard working desis across the country. With amazing comedy relief and seamless storytelling, the movie is quite gripping and hard hitting on whats wrong with the immigration parameters in the U.S. With major Bollywood stars in the line up, such as Omi Vaidya ("3 Idiots," "Big in Bollywood"), Melanie Kannokada (spokesmodel for Bare Escentuals cosmetics, "The Brink"), Ali Fazal ("Fukrey," "Khamoshiyan"), Rajit Kapur ("Shaitan," "Well Done Abba"), Amitosh Nagpal ("Besharam," "Dabangg) and Samrat Chakrabarti ("Vishwaroopam," "Midnight's Children"). Here is a trailer for the film followed by (spoiler alert) an overview on the film.
The movie focuses on a very real issue that many desis in the U.S. have been facing continuously for years. Bright, intelligent, promising and hard working individuals come to the U.S. hoping to create a new life. They devote many years to their jobs and companies waiting for their visas and green cards that sometimes don't get renewed or even come, forcing them to return to India to start all over again. One of the most identifiable aspects of the movie many will gravitate towards is how the characters try to assimilate and acclimate to their lives in their new country. We get a peak into the different struggles each one is going through from a man discovering his sexuality, dating in the Indian community, a daughter butting heads with her father's ideals to what it's like being away from parents who spent their last dime to send their son for a better life. We see a very humorous approach on many of these variations along with a dark look at the things that keep these thriving personalities awake at night. The American Dream they all have come to achieve isn't within their reach because of immigration issues. As a result of the limbo many of them experience, America loses out on highly educated and skilled immigrants that are unable to support promising start-ups in the Silicon Valley in order to build the next world changing technology. Many of these talented individuals have the know-how to start their own companies and become entrepreneurs but are limited due to their immigration status.
Immigration reform has been on the forefront for some time. Even though this film is set in the 2008 recession period where the fate of many of these workers was to return back to India, today, the reform is slowly allowing better parameters. For over six years, republicans and democrats have been asking tech companies and many businesses to play the waiting game as they work to resolve the immigration issues around visas but to little or no movement on that front. The tides are changing but after paying a heavy price on the country's economy. Global competitiveness is at a level high and America is not part of the conversation the way it use to be. So many external companies in China and other markets are seeing an all time high increase in growth and competitiveness. Silicon Valleys are being forged around the world in order to build the next big thing. Where America once owned the edge on innovative technology and the coveted valley was at it's highest peak, the loss of skilled immigrant workers tipped the scales to all the surrounding competitors. It's time immigration reform made way for these bright, smart and creative individuals to find their place in our country not because they are qualified for the job but because they can make it better for all of us, for our country and for our economy.
We had the pleasure of speaking to Samrat Chakrabarti and Omi Vaidya after the premiere and asked them what they hoped people would get out of the film and their character portrayals.
Omi Vaiyda took a few minutes to talk about his character's struggle with his sexuality. He explained that it is a very common issue many people deal with. His fear is not being accepted by his family and it takes him time to deal with those fluctuating feelings. The characters struggle to belong and eventually find their place without turning their back on where they come from. Even if you do stay here, you don't forget where you come from.
Samrat Chakrabarti elaborated that the movie differs from others about the immigrant experience, specifically of a generation that came here for the American Dream. With the world changing at a global pace and atmosphere, there was almost like a hamlet idea of belonging- should I stay here or should I go. India is continuously moving forward and being globalized that it's no longer about that glorified American Dream. The previous generations, like our parents, though money just grew on trees in America whereas today, with the internet and technology, its quite obvious that it doesn't and making a life in America is not easy for immigrants. India, itself, has so much power and resources to tap into that the focus is becoming more about making the strongest foundation possible where it all began, the roots.
We look forward to catching up with the director and writer very soon for a more in depth interview about the movie and it's reception since premiering at the Cinequest Film Festival. Rucha Humnabadkar spoke of how they hope to get Obama and his administration to view this film and consider it as an added cue regarding the need for immigration reform.
The topic was handled really cleverly and at a very easy to understand level. You don't have to be well versed in immigration reform to understand what dynamics are at play for these characters. The movie had elements of Bollywood and Hollywood with a breakout song and dance to the brilliant comedic timing of Amitosh Nagpal and company. The similarities of what immigrants face in acclimating to the American way of life is undeniable and literally laugh out loud during many scenes throughout the feature. The most poignant scene in the film has to be of the main characters sitting in a circle after a house party, sharing their personal struggles. Amitoshs' performance from having been the comic relief to that of a teary eyed, sound of reason was truly magnificent. Melanie and Ali's chemistry came through really well and one can't help but scream at Melanie for not pursuing a proper relationship with Ali after their night together. Omi Vaidya meticulously handled his character's idiosyncrasies flawlessly. How many of us know folks like him who struggle? How many of us know it ourselves? It really strikes a cord home on many levels. It was a good arc seeing his character start the conversation with his mother, whom he feared wouldn't understand. Samrat provides a good soundboard for Ali and his subtle comedic moments add even more color to the story. The ending was truly epic. You think, 'Yes! Ali gets to stay and now he can be with Melanie and live his life that he worked hard to build. He got his Sveta!' Come to find out, he ends up back in India. I can see why the writer chose to bring Ali's character back to India. As much as immigration reform is a struggle in America, talent is fleeting India's borders as well. Many do go elsewhere for more opportunities with their education. Why isn't India retaining its own? That parallelism is key in driving home very strong arguments on both ends. The storyline begs to compel those in India about the same concept, are they 'for here or to go?' One question still remains which I plan to ask Rucha next time. Do Ali and Melanie's characters end up together or not?????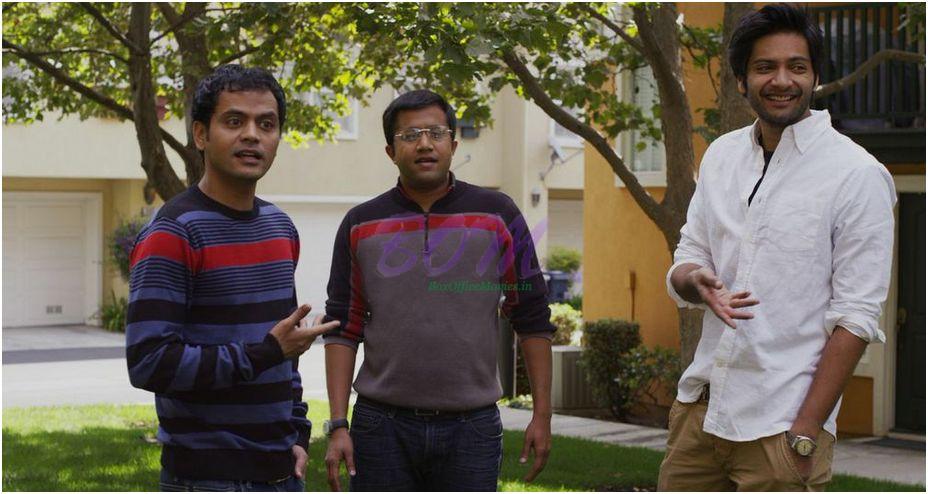 We DeSide had the privilege of attending the recent movie premiere at the Cinequest Film Festival in San Jose, California. Below is a small clip from the short exchange the cast and crew had after the premiere and some photos from the event. You will hear directly from the director and writer as well as some of the key cast members who were in attendance. The amazing Riar Academy was also present as they were the choreographers for the Bollywood dance numbers. Watch this space for more on this amazing dance academy flourishing in the bay area and slowly making its way into the Sacramento area.
Our apologies for the raw footage:
For more details on the movie, check out the website: http://forhereortogomovie.com/